Eliza De La Cruz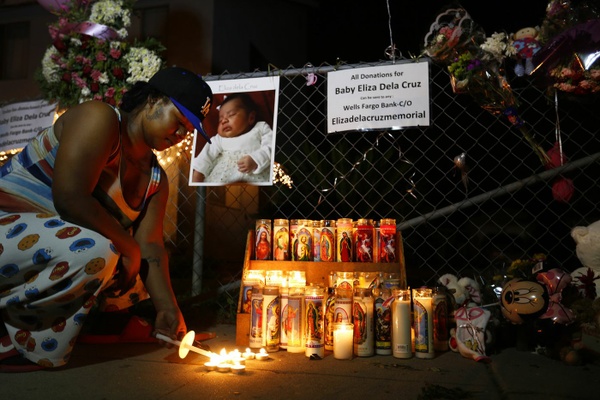 Eliza De La Cruz, a 24-day-old Latina from Long Beach, was pronounced dead on Sunday, Jan. 4, 2015, after her body was found in a dumpster in the San Diego County city of Imperial Beach, according to Long Beach Police investigators.
The baby was pulled from her mother's arms around 6 the night before after a man broke into their Long Beach home in the 100 block of West 51st Street and shot her uncle, father and mother, Long Beach Police homicide Det. Mark Mattia said.
All three adults were hospitalized but survived the shootings. The next day, a man searching for cans to recycle in Imperial Beach found the infant's body in a commercial dumpster in the 600 block of Palm Avenue, about 120 miles south of where she was abducted, according to the San Diego County coroner's report. 
Eliza was pronounced dead at the scene at 1:40 p.m., according to coroner's records. The autopsy report indicated she died of asphyxiation but didn't provide further details, including how or where she was killed, Mattia said. 
The man found Eliza's body when he tore open a white, kitchen-sized plastic bag inside the dumpster, according to the coroner's report. 
She was wearing a pink-and-white-striped onesie and a single white sock with pink trim on her right foot, according to the coroner's notes. The coroner's office reported no evidence of trauma to Eliza's body, except for several red, petechial hemorrhages — a rash of broken blood vessels that often accompany asphyxiation — on her face. 
"It's a very, very, very sad case," Mattia said. "I don't know what else to say but that. In this job, you deal with death all the time, but when a child is involved, it's just different."
Investigators arrested four people on March 25, 2015, after a man attacked a 23-year-old woman with a baseball bat and tried to kidnap her 4-month-old son in an El Segundo motel on Feb. 6, 2015. 
Anthony Ray McCall, 29, of Oceanside, ran away when motel employees knocked on the woman's door, according to KTLA 5. Authorities later linked him to the kidnapping and shootings in Long Beach. 
In a news conference after the arrest, investigators said McCall was part of a bizarre plot to steal an infant for his accomplice and co-conspirator, Giseleangelique Rene D'Milian, 47, of Thousand Oaks, The Times reported. 
D'Milian devised a plot to kidnap two babies, investigators said, because she needed to convince her married boyfriend that she had delivered twins while he was overseas.
According to investigators, D'Milian targeted children to possibly abduct by claiming to have a charity that assisted their mothers. On the day of Eliza's kidnapping, D'Milian trailed the baby and her mother, Jackie Honorato, as they rode a Long Beach bus.
When Honorato got off the bus carrying her baby, D'Milian pulled alongside them in her dark-colored Range Rover and offered them a lift home. Honorato declined the ride, but didn't suspect "something was going to happen" later, The Times reported.
The Long Beach Press-Telegram reported that during a preliminary hearing in October 2016, Honorato testified that she and her husband were watching television upstairs in the house they shared with her brother-in-law when they heard a commotion downstairs.
The brother-in-law, Jose De La Cruz, testified that McCall burst into his house and shot him before storming up the stairs.
When the gunman approached Honorato, he said, " 'Give me the baby,' " the woman testified, and then shot her when she refused. 
"He literally took your baby out of your arms?" prosecutor Cynthia Barnes asked. "Yes," Honorato replied.
After she fell, Honorato said she heard the gunman walk downstairs and a female voice from below that she recognized as the woman who had offered her a ride earlier in the day.
"The voice said, 'I'm your new mommy,' " Honorato said. "That was the last thing I heard," the Press-Telegram reported. 
D'Milian pleaded no contest in January 2018 to one count of first-degree murder in Eliza's death and two counts of attempted murder for trying to kill the infant's father and uncle, according to a news release from the Los Angeles County district attorney's office. She was sentenced to 25 years to life in prison. 
On March 2, a Los Angeles County Superior Court jury found McCall guilty of first-degree murder, kidnapping and attempted kidnapping and four counts of attempted murder. The jury also found all of the allegations true in the case, including gun use and infliction of great bodily harm. McCall was sentenced on March 19 to five life sentences, as well as 141 years and eight months in prison, according to the release. 
D'Milian's daughter, Charisse Shelton, 30, of Corona, and Todd Damon Boudreaux, 44, of Fontana, also were arrested in March 2015 on suspicion of being an accessory to the crime after the fact.
Shelton later was released and never was charged, Mattia said, but Boudreaux pleaded guilty to one count of accessory after the fact in October 2016 and was sentenced to three years in prison on March 19.  
Photo: Patches Pelts of Long Beach lights a candle at a vigil to mourn the death of 3-week-old Eliza De La Cruz on Jan. 9, 2015. (Rick Loomis / Los Angeles Times) 
Contact the Homicide Report. Follow @latimeshomicide on Twitter.
Do you have information to share about the life of Eliza De La Cruz ? The Homicide Report needs your help. Please fill out this form or e-mail us at homicidereport@latimes.com.