Frank Curtis Douglas III, 25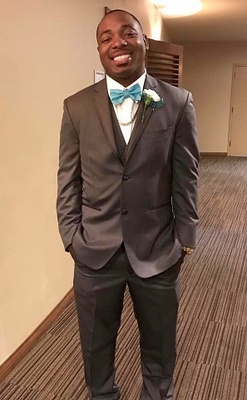 Frank Curtis Douglas III, a 25-year-old black man, was shot and killed Thursday, Feb. 15, in the 300 block of East 139th Street in the Willowbrook area of South Los Angeles, according to Los Angeles County coroner's records. 
Douglas had spent Valentine's night with a friend in Willowbrook and went outside to his car shortly before 6 a.m. to go to work, Los Angeles County Sheriff's Lt. Derrick Alfred said.
He was inside his white Dodge Charger when someone walked up to the car and shot him multiple times through the driver's side window, Alfred said. 
"He probably never saw it coming," Alfred said. 
Douglas was pronounced dead at the scene at 6:14 a.m., according to coroner's records.
Investigators don't have any suspect information, Alfred said. 
Douglas was a lead inspector for Acuren Inspections in Torrance, where he had worked since graduating from Lynwood High School in 2011, said his mother, Monique Watson. 
His normal starting time at work was 6 a.m., she said. 
Douglas grew up in Lynwood and also attended Abbott Elementary, Lynwood Middle School and Marco Antonio Firebaugh High School, his mother said. He shared custody of his 3-year-old daughter, and the two lived with his mother in Los Angeles. 
"He was known for his big Kool-Aid smile and his very, very deep voice," Watson said. "I was really shocked by how many lives he touched. Over 300 guests showed up at his funeral, and everyone brought up how, no matter what was going on in his life, he had a big heart and was willing to help anyone."
Billy Jones, his supervisor at Acuren Inspections, said Douglas worked his way up in the company, where he conducted inspections and training sessions all over the country. 
"He was a powerful leader with a kind and bubbly spirit," Jones said. 
Friend Karina Carias reiterated those thoughts on an online fundraising site to raise money for Douglas' mother and daughter.  
"Although he was at the top of his career, Frank was always willing to help his fellow co-workers and train those who were just starting," she wrote. 
"He was a passionate father, motivated individual and determined to succeed in life. Despite spending most of his time at work, Frank dedicated his life to raising his beautiful daughter. … There was nothing he wouldn't do for her."
Anyone with information is asked to call the sheriff's Homicide Bureau. Those wishing to remain anonymous should call Crime Stoppers at (800) 222-8477. 
Photo: Frank Curtis Douglas is seen at a family wedding in 2017, flashing what his mother calls his "Kool-Aid smile." Credit: Family photo provided by Monique Watson.
Contact the Homicide Report. Follow @latimeshomicide on Twitter.
Do you have information to share about the life of Frank Curtis Douglas III ? The Homicide Report needs your help. Please fill out this form or e-mail us at homicidereport@latimes.com.