'The face of a killer': New tips, better forensics create person of interest in accountant's 2005 shooting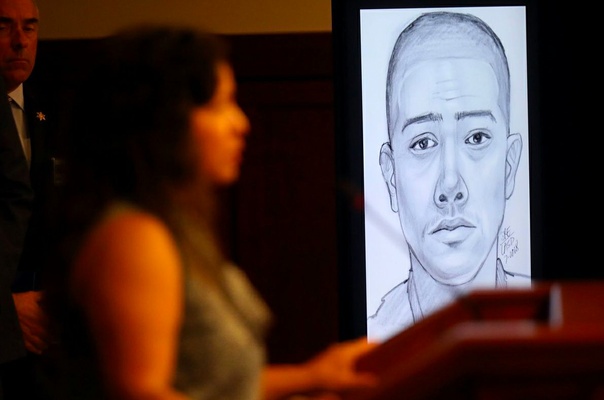 Edward Berber was the picture of success in December 2005. The 27-year-old accountant had recently earned his master's degree from Notre Dame University and was employed with a good firm in Los Angeles, preparing to take his exam to become a CPA. 
But the triumphs in Berber's professional life belied his struggles at home — he and his high school sweetheart were in the middle of a divorce and battling over custody of their two children, who were then 8 and 3, Los Angeles County Sheriff's Sgt. Robert Martindale said Tuesday.
His estranged wife had moved out of their Hacienda Heights home, and that week, the children were staying with her, so Berber was alone when someone entered his home between Dec. 2 and 5 and shot him in his bed, Martindale said.
Investigators think he was asleep when he was shot because there was no sign of a struggle, Martindale said. His body was discovered the morning of Dec. 6, when his mother let herself into his house, worried because she hadn't heard from him in several days.
He had been shot multiple times in the head, according to the Los Angeles County coroner's office. And for Berber's parents and three siblings, things were never the same, his older sister, Alejandra "Alix" Johnson, said in an interview Tuesday night. 
Even though he was the youngest, Johnson always looked up to her baby brother "because even as a teenager, he aspired to be everything he could be," she said. 
Berber grew up in La Puente, graduated from La Puente High School and got his bachelor's degree from Cal State Fullerton, she said. 
He began working in his teens, helping at his parent's business and selling items door to door, saving money to eventually buy his home. After he earned his bachelor's degree, he received a scholarship from his employer to work on his master's degree at Notre Dame.
When he left his family for Indiana, "he'd provided a home for them. He knew they were well taken care of, and he was leaving them in a good place," Johnson said.
"He was prideful in what he had accomplished, but he was also a humble kid everyone loved to be around. He was a happy person, and always looking to make people happy with him. He loved family time, and he loved his kids. He wanted his personal life to be perfect, like his professional life. He was just a good guy."
Berber's case went cold in the aftermath of the shooting, but on Tuesday, more than 12 years after his death, investigators revealed a composite sketch of a person of interest — a light-skinned Latino in his mid- to late 20s and of medium height and weight.
Martindale refused to give any more specifics about the new information, except to say that it came from people in Berber's neighborhood and community, as well as "advances in forensics technology."
Los Angeles County Supervisor Janice Hahn also announced a $10,000 reward for information leading to the arrest and conviction of those responsible for Berber's death.
"We believe we can show you the face of a killer," Los Angeles County Sheriff Jim McDonnell said during the news conference, The Times reported. 
"We believe we are very, very close to a breakthrough in this case," McDonnell said. "Please look at this face. Someone out there knows him."
Investigators don't think this was a random attack, Martindale said after the conference. Berber lived in a quiet, well-kept neighborhood in the 1800 block of Charlemont Avenue. He had no gang ties or enemies at work, he said, and there was no sign of a burglary or forced entry at his home.
"This shooting had the appearance of being something personal," he said, "and of course we look at family dynamics, but we can't say aye or nay at this point about whether it was a factor in the divorce or just something random."
Berber's widow remarried less than a year after the shooting, Martindale said, and has not been cooperative with investigators. 
"We're not saying she had any involvement in his death," he said, "but it's hard to clear somebody when you can't speak to them at length or detail about what occurred."
The new leads have been difficult for Berber's family, Johnson said. "It's reopening this box of emotions we pretty much had put to the side — not away, but to the side because there was really nothing to move forward with. So now we're reliving it all like it happened yesterday." 
As painful as it's been, Johnson said her family is hopeful the culprit will be found.
"It doesn't bring him back. It doesn't even feel good," she said, "but it's just knowing that the truth may be revealed as to why, why would someone do that to a kid? There's no reason, and all it did was break us apart. A family that had huge dinners at Thanksgiving, beautiful gatherings at Christmas … that all kind of fell apart."
Anyone with information is asked to call the sheriff's Homicide Bureau at (323) 890-5500. Those wishing to remain anonymous should call Crime Stoppers at (800) 222-8477.
Photo: Alejandra "Alix" Johnson stands next to a sketch of a suspect in the fatal shooting of her brother, Edward Berber, while he slept in his Hacienda Heights home in December 2005. Johnson spoke during a news conference in downtown Los Angeles on Tuesday.  Credit: Gary Coronado / Los Angeles Times
Contact the Homicide Report. Follow @latimeshomicide on Twitter.