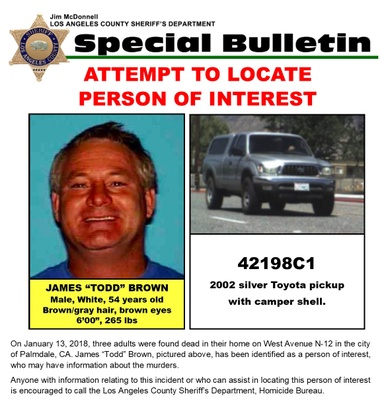 Richard Gardner II, a 78-year-old white man, was pronounced dead on Saturday, Jan. 13, after suffering "trauma to the body" in the 1100 block of West Avenue N12 in Palmdale, according to Los Angeles County Sheriff's homicide investigators. 
Deputies went to Gardner's modest Palmdale home around 2:25 p.m. after his adult daughter asked authorities to check on her family, said Lt. John Corina. 
The daughter was worried, he said, because she hadn't been able to reach anyone at the house where her disabled brother, Richard Gardner III, 52, lived with their father and their father's wife, Pepper Gardner, 56. 
When deputies arrived they found the elder Gardner dead in the small, single-level house, Corina said. A short while later, investigators found Gardner's wife and son dead in another part of the house. 
All three suffered "trauma to their bodies ...
Do you have information to share about the life of Richard Golden Gardner Jr.? The Homicide Report needs your help. Please fill out this form.