At Vermont Vista vigil, a mother's grief is just beginning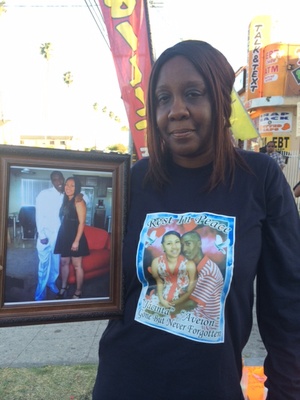 Before the candles were lit, the heads were bowed in prayer, and the calls for violence to end were shouted, Janet Sanders-Bolden met Roshon Davis on the side of the road, at a place where no one wanted to be: the vigil for the killing of her son. It was an encounter of two people who never wanted to meet.
Davis' son, with the same name, was fatally stabbed Jan. 30. He said repeatedly that his son's birthday — July 17 — is coming up. Sanders-Bolden's suffering was just beginning. Davis has been living day-to-day.
"This just needs to stop," she told Davis before joining the group of mourners gathered around dozens of candles, right across the street from where her son had just moved into a new apartment.
Just one day before he was killed, Aveion Curtis Bolden invited his mother over to show her his new place. He was proud.
The next night — Friday, June 13 — Bolden, his girlfriend, Jacinta Walker, and another couple had plans to go to dinner, then to go see "22 Jump Street."
The group of four got into a silver Toyota Camry about 10 p.m. Walker and Bolden sat in the back, while the other couple sat in front.
Shots rang out. The driver of the Camry, Anthony Alonzo Cudger, shot back.
In a matter of minutes, Walker, 18, Bolden, 20, and the gunman from the other car, Trevor Andre Williams, 33, were dead — the latest casualties in a ongoing string of shootings between two rival Crip gangs that has lasted for years.
At the vigil, held near South Figureoa Street and West Manchester Avenue,  Sanders-Bolden clutched a framed photo of her son with his girlfriend. Her eyes were expressionless as family, friends and community members walked up to her to hug her.
Sanders-Bolden's fiance, David Williams, knew Bolden for eight years. He said Bolden got caught up in the wrong crowd but had a "heart of gold" and had received his high school diploma in January 2013. Sanders-Bolden said she planned to use a picture of him in a cap and gown on the front of the obituary for his funeral.
Late that night, her nephew called Sanders-Bolden and said, "I think Aveion's been shot."
She rushed to the crime scene and stood behind the yellow tape, hoping it wasn't her son.  It wasn't until 4 a.m. that her fears were affirmed.
When Sanders-Bolden had to go to the police station, she saw the vigil for the shooter, Trevor Andre Williams. She admitted she felt hatred.
"It was a weird feeling," she said. But she acknowledged that justice, or the justice she's settling for — has been served.
"The person who killed my son is dead," she said.
Men and women walked up with tears in their eyes to place a candle at the vigil. Minister Tony Muhammad called for change. Sanders-Bolden hugged Walker's mother, Carolyn Cole.
Sanders-Bolden told the crowd that her son wanted to have children with his girlfriend of a year and a half.
"They lost their lives together," she said.
Photo: Janet Sanders-Bolden holds a photo of her son, 20-year-old Aveion Curtis Bolden and his girlfriend, 18-year-old Jacinta Walker. The couple was killed Friday, June 13, near South Figueroa Street and West Manchester Avenue. Credit: Nicole Santa Cruz